Ben Belknap is an artist and musician who lives and works in Oakland, CA.
His art work consists primarily of small scale, richly glazed ceramic sculpture. In 2003 he received his bachelors degree from The California College of Arts and Crafts and has since had art shows at various galleries around the Bay Area and elsewhere.
See what he's working on now at his art blog:
Here is his old blog which has a lot of nice pictures:
You can see some of his work and you can always find some of his small ceramic heads at:
The Compound Gallery & Studios
1167 65th st.
Oakland, CA 94608
510.601.1702
Open Thursday-Sunday 12-6pm
and First Fridays 7-10pm
Part of their new Collections room: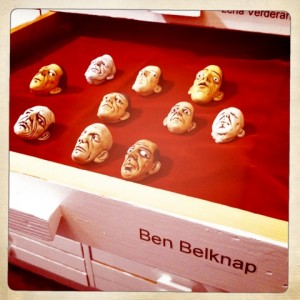 Also shop some of his artwork at his Etsy Shop.